UKTRF, AOA, Airlines UK and IATA announce summer push of the Government-backed One Too Many campaign, reminding passengers of the consequences of drinking to excess while travelling
Passengers arriving at UK airports this summer will be greeted with a stark reminder of the price they could pay if they disrupt a flight.
The One Too Many campaign, an industry-led initiative, aims to encourage passengers to behave responsibly – or be held personally responsible. Through in-terminal and in-store signage and targeted social media adverts, holidaymakers will be reminded of the serious consequences of disruptive behaviour at airports or onboard an aircraft, which include:
A lifetime ban – causing a flight to be cancelled could burden you with a life-time flying ban with that carrier
Jail time – disrupting a flight could lead to up to two years in prison
A hefty fine – delaying a flight from taking off could land you a £5,000, while causing an incident mid-air could result in a maximum diversion fee of £80,000
No holiday – if you are deemed unfit to fly, you will be denied boarding
Collectively the campaign's organisers, the UK Travel Retail Forum, the Airport Operators Association, the International Air Transport Association and Airlines UK, represent most of the civil aviation and travel retail industry, from airlines and airports, to airside retailers, food and beverage outlets and duty free brands.
According to data from the Civil Aviation Authority and accounts from airports, there have been no unexpected increases* in reports of disruptive behaviour since COVID-19 related travel restrictions were lifted. But the One Too Many campaign partners are encouraging passengers to continue behaving responsibly nonetheless. With many Brits expected to make one of their first international holidays since the pandemic this summer, the four organisations are warning passengers not to ruin their trips before they have begun.
The industry-wide campaign launched in 2018 with the support of the Government, including the Department for Transport, who have since praised the campaign in its Aviation 2050 strategy as a "first-of-its-kind" campaign, and the Home Office, as "invaluable in promoting awareness to passengers".
With air travel now free from COVID-19 related restrictions, this year traffic is set to approach 100% of pre-pandemic levels at many UK travel hubs. As a result, passengers will this year receive the One Too Many reminders directly on their mobile devices, in an attempt to maximise awareness. Airports across the UK have displayed the eye-catching black and yellow campaign graphics physically in airside stores, on departure boards, and on their social media channels since the campaign first launched.
This year, passengers will also see fact-checking 'Did You Know?' alerts, reminding them of lesser-known airside rules, such as being banned from opening duty free purchases until they arrive at their destination.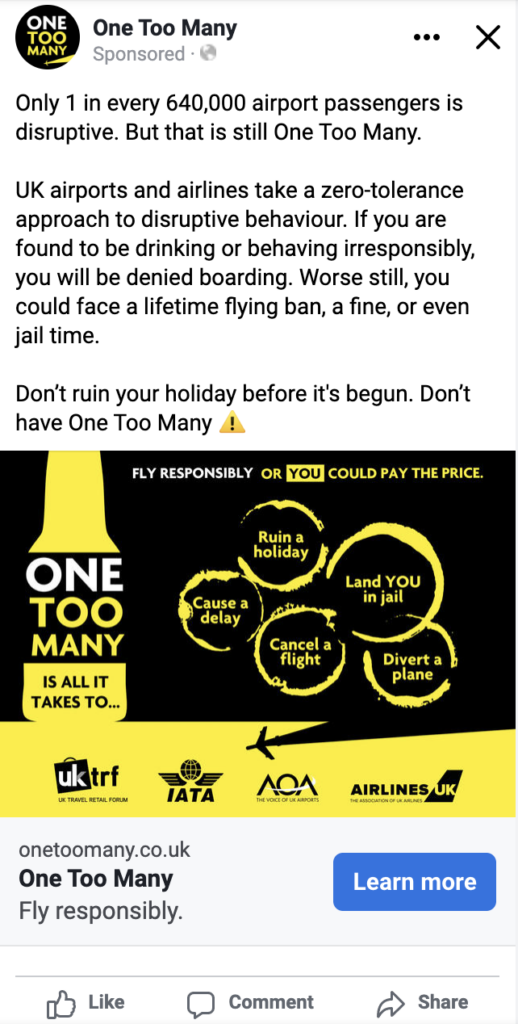 Screenshots of national and geofenced adverts passengers aged 18-35 will receive across Instagram and Facebook when travelling
Nigel Keal, Chairperson of the UK Travel Retail Forum, added: "UKTRF and its campaign partners have been clear for many years – there is no room for disruptive behaviour of any form when travelling.  The issue has long been one of our industry's highest priorities, as we have a duty to help protect passengers, customers, and the many staff members that help keep travellers safe at all stages of their journey.
"Our message to passengers is to enjoy their travel, behave responsibly, and not to ruin their holiday, or the holidays of others. The consequences of disruptive behaviour while travelling are very serious, and could stop you from travelling for years to come."
Karen Dee, Chief Executive of the Airport Operators Association, commented: "We want everyone travelling this summer to enjoy themselves and have a good time, but it is important that they do so in a responsible way. The One Too Many campaign is aimed at reminding everyone that they have responsibility for their own actions and to make sure their behaviour does not cause problems for others.
"Airports, along with partners across the sector, will be keeping a close watch for any disruptive behaviour and will not hesitate to take action to ensure the safety of passengers and staff. This summer we'll see many people getting away for the first time since the pandemic and it would be a shame if the actions of a few were to spoil it for the many."
Simon McNamara, UK & Ireland Country Manager at the International Air Transport Association (IATA), said: "Unruly passengers are a continuing concern for air carriers. Though incidents are rare, an unruly passenger can pose a real threat to the safety of staff and other travellers. While our professional crews are well trained to manage unruly passenger scenarios, it is unacceptable that rules in place for everyone's safety are disobeyed by a small but persistent minority of passengers.
"IATA is therefore delighted to support the UK's One Too Many Campaign which is a stand out example of industry collaboration to effectively deal with triggers to unruly and disruptive passenger behaviour."
Commenting on today's announcement, Aviation Minister Baroness Vere said: "We take a zero-tolerance approach towards disruptive behaviour, and we are committed to ensuring the safety and enjoyment of all passengers, as well as protecting our hardworking staff.
"I am pleased to see the relaunch of this collaborative campaign from industry – it serves as an important reminder that for all those flying: engaging in such behaviour has serious consequences from jail time to a hefty fine. So, let's all work together to keep our skies friendly and enjoyable for everyone."
The Facebook and Instagram ads will run nationally and at participating airports until 1 September. One Too Many signage at airports remains present all year round.
* As of Q1 2023 increases in disruptive passenger mandatory occurrence reports (MORs) largely rose in line with what would be expected from increases in air traffic, and remained similar to 2019 levels. This is in line with anecdotal evidence shared by some of the UK's largest airports and airport groups.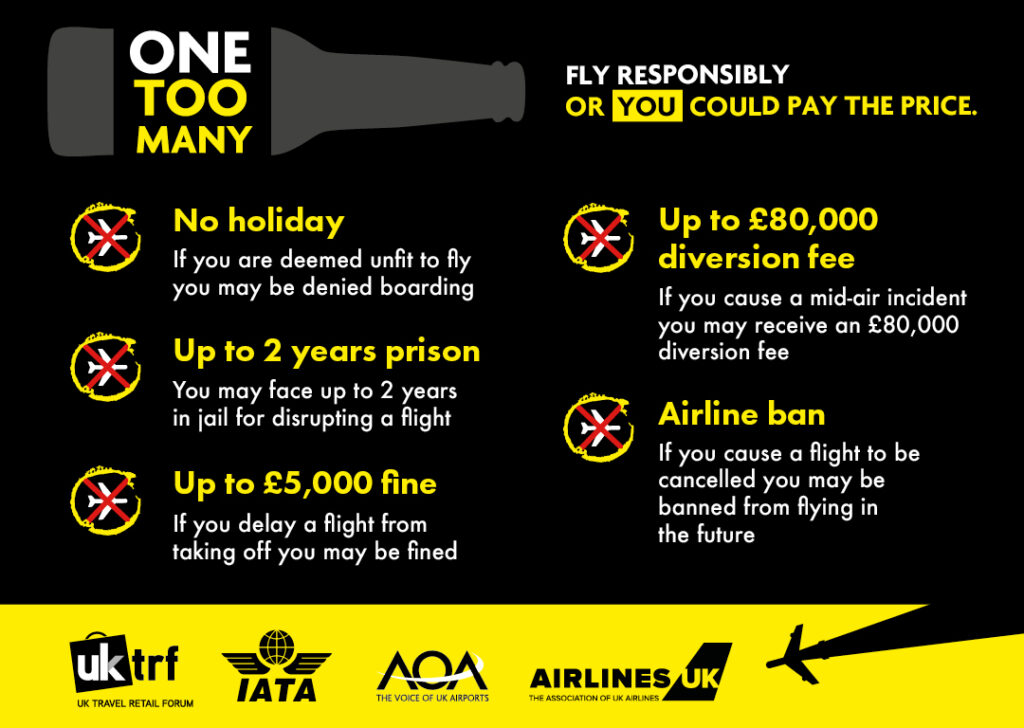 An example of One Too Many signage, for physical use in terminals and stores, and on social media
About the One Too Many campaign:
The One Too Many campaign is a cross-industry campaign led by the UK Travel Retail Forum (UKTRF), the Airport Operators Association (AOA), Airlines UK and the International Air Transport Association (IATA). It was launched in 2018 and promotes the personal and legal consequences of disruptive behaviour at airports.
Only 1 in every 640,000 passengers are disruptive – however, this is still one passenger too many. While incidents are rare, they can have a significant impact for fellow passengers and employees working airside, landside and onboard.
The One Too Many campaign utilises a combination of in store signage (printed and on-screen), social media assets, media activation and industry awareness. Through its partners' respective memberships, it is in place physically at most major UK airports.  The selected airports participating in the summer geofenced advertising campaign are Heathrow, Gatwick, Bristol and Belfast International. National ads will run across the rest of the UK. 
This year's campaign is not being relaunched as a result of any spikes in incidents at airports. This is a proactive campaign to coincide with air traffic expected to reach 2019 levels this summer. 
There are many reasons that a passenger's behaviour may become disruptive. Alcohol-related incidents only make up a proportion of disruptive incidents, with COVID-19 compliance (e.g. mask wearing and testing requirements) becoming the biggest cause in recent years.
Media contact: [email protected]